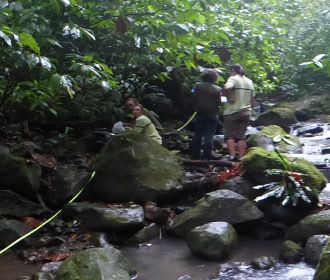 Phase 1

—  2016 to 2018
Study of Guadeloupe's riparian areas
The first phase of the project "PROTEGER" aimed to characterize the forests bordering Guadeloupe watercourses, hitherto little known.

It was financed by the Guadeloupe National Park, Office de l'eau 971, the Guadeloupe Region and the Direction de l'Environnement, de l'Aménagement et du Logement (Department of Environment, Planning and Housing ) or DEAL, Guadeloupe.

First phase results allowed a typology of riparian areas in Guadeloupe to be drawn up and 12 types of riparian areas to be identified (study conducted by the Office National des Forêts). A set of species with high potential for their use in bioengineering works was also defined.